Who Inspires Me? By Chloe
Tuesday, November 21, 2017 - 17:14
I am inspired by you. I am inspired by women and girls everywhere. I am inspired by the everyday women and girls doing remarkable things. I am inspired by the girl in my class who was knocked down over and over again with her grades but didn't given up and is now known as the smart kid in our class. I am inspired by my teacher who prances into class each day with a huge grin on her face wearing a new and quirky outfit feeling free to be herself. I am inspired by my friend who came last at cross country in grade 7 and came 8th at cross country this year.
I am inspired by the girl who runs down the halls in the morning filled with so much happiness and joy handing out beautiful hand-written messages that can't help but make people smile. I am inspired by my rock-climbing coach who constantly amazes me about the heights she can reach and how brave she is, but yet how humble she remains. She always makes me laugh and is there to give me advice and listen to me.
I am inspired by my mum who is always there for me. I am inspired but her unconditionally love for me. I am inspired by the women who care and love for their children unconditionally. I am inspired by the women who work their butts off at work. I am inspired by the women who smash through the stereotypes and choose the job they want. I am inspired by the women who are the innovators, creators and thinkers. I am inspired by the athletes, the sportswomen and the dedication in their eyes.
Dear strong and inspiring women everywhere thank you, you have inspired me.
Chloe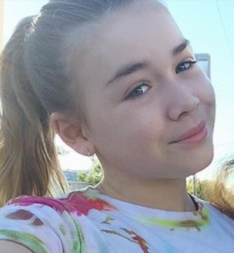 Chloe
Medtronic Diabetes Australia Ambassador
Living With Type 1 Diabetes 
An active 14.5 year old, Chloe likes to enjoy a variety of sports from swimming to rock climbing. With her pump by her side she is able to live life with less worry and more fun, be sure to read Chloe's blogs on how she gets back to the real world.
This patient testimonial relates to an account of an individual's response to treatment. The account is genuine, typical and documented. The views and opinions expressed are those of the patient or author and not representative of Medtronic or of any third parties referenced. The response other persons have to treatment could be different. Please consult with you healthcare professional for information on whether the treatment is appropriate for you.