My Key Three by Chloe
Tuesday, November 21, 2017 - 16:46
There is so much I love about my pump that is hard to keep it to just three ways that my pump helps me manage my diabetes with minimal fuss.
High School
High school has to be top of the list because I spend so much time there. I was very grateful last year when I started full-time CGM (Continuous Glucose Monitoring) just as I began High School as there are various activities and events to get involved in. When it comes to my diabetes, I am so glad that my pump can help me out.  With the CGM sending continuous levels to my pump, everything I need to know is right here by my side. I don't have to do regular fingerprick tests at school to "check how I'm going," my pump will vibrate and beep if I am out of range ensuring that I stay on top of my diabetes. It means whether I am at class, lunch or training I don't have to carry my testing kit, a phone or swipe anything, it's just all there for me on my pump, too easy! It also means I can take the most out of each class and reach my full potential.
Teenage Life
As a teenager, I love that I am starting to gain more independence and freedom. If my friends and I are heading out to somewhere like the Eat Street markets to sample all the different foods on offer, I don't need to worry about sneaking off to give myself insulin via a pen. With the push of a few buttons, I am done!  If I want to get clever, I can also choose for the insulin to deliver at different rates to accommodate any fatty foods. There are plenty of apps that can help to count the carbs in food, but I've got a pretty good carb radar after all the years of practice, so I don't usually need to worry.  Then normally the difficult thing is to know how much all the walking around is going to affect my levels, but Yet again the pump has my back for that too!  My all-time favourite feature of my 640G is the "suspend before low." My pump is so smart that it knows when I am heading for a low and suspends insulin delivery until my levels stabilize. It has saved me from so many hypos and I love how it helps me to continue to live my life to the fullest and to keep having fun. 
Family Life
Hanging with my family is still sneaking into my top three. My family lives an active lifestyle, and as a family, we like getting out running, swimming, wakeboarding and more. In fact my Mum and I just joined the Gym together! My pump makes this easier as I am learning some activities have different effects on my blood sugar levels, so I wear my pump while I am doing them to keep me in range. Some events will affect my levels later, and before having my 640 G I would then have spent an afternoon on the couch with revolving hypos, but now my CGM kicks in with the suspend before low and prevents it so I can continue doing the things I love. The fact that this pump is waterproof means that getting in and out of water is also now stress-free.  Having the 640g and CGM means a better night sleep for my parents after all this activity because they know that the pump is looking out for me so we can all recharge ready to do it all again the next day. 
If you feel like diabetes is holding you back and you that diabetes is controlling your life, I think you need to get pumping.
Chloe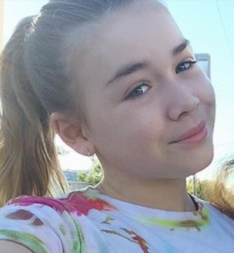 Chloe
Medtronic Diabetes Australia Ambassador
Living With Type 1 Diabetes 
An active 14.5 year old, Chloe likes to enjoy a variety of sports from swimming to rock climbing. With her pump by her side she is able to live life with less worry and more fun, be sure to read Chloe's blogs on how she gets back to the real world.

This patient testimonial relates to an account of an individual's response to treatment. The account is genuine, typical and documented. The views and opinions expressed are those of the patient or author and not representative of Medtronic or of any third parties referenced. The response other persons have to treatment could be different. Please consult with you healthcare professional for information on whether the treatment is appropriate for you.