Getting Back to Adventure
Wednesday, March 6, 2019 - 15:00
Today we're thrilled to share an inspiring guest post from Joel, a successful writer, advertising expert and adventure-lover who has lived with type 1 diabetes for 39 years. His story of overcoming some fears – fears that are likely all too familiar for many of you – is one you won't want to miss.
Back in my pre-pump life, I almost drowned when I went low while swimming near Waikiki Beach. The 4-hour difference between Chicago and Honolulu had messed up the usual timing of my shots and meals without my realising it. If it hadn't been for a watchful lifeguard hauling me up on his board and paddling me back to shore, I would've died. After I recovered, I was both frightened and embarrassed.
I had another close call a couple of years later, when I had a severe low while stalking mule deer in deep snow on a Wyoming mountainside in the Shoshone National Forest. I love the outdoors, but Mother Nature sneakily kept trying to use my diabetes to kill me. After that, I limited my exposure to that kind of risk, which also unfortunately meant I limited the kinds of fun I could have.
How things have changed. Recently, I went swimming and snorkeling off two different beaches and several reefs near Isla Mujeres, Mexico—cruising the coral for colorful fish, lobsters, eels and octopus without any problem. The difference? This time my MiniMed 670G system was constantly checking my glucose levels and making adjustments. It's waterproof at snorkeling depths, so wearing it while I was swimming was a no-brainer.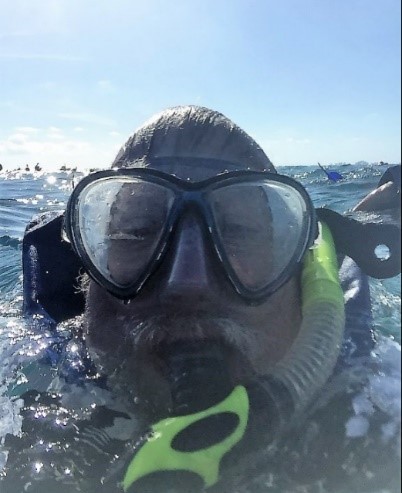 Honestly, this wasn't something I'd really thought about when I was considering upgrading to the MiniMed 670G system. I'd been more excited about how it might improve my daily numbers, and whether it would bring down my A1C—my regular exercise levels aren't usually demanding enough to cause problems. But, swimming in the ocean, especially in a strong current, can really bring your sugar down FAST—even when you take in extra carbs beforehand. As you follow fish along the reef, it's very easy to lose track of how long you've been out, and it was very reassuring to know the pump was there to alert me and automatically suspend my basal before I got into trouble. My glucose never got below 5 while I was in the water.
Now that I've proven to myself how well the system works to protect against lows, I'm considering getting back to other outdoor activities I've avoided or limited due to worries about going low. Think snowshoes in the winter, and Canadian fly-in fishing camps in the summer. A big 'thank-you' to the Medtronic folks who made it possible!
This patient testimonial relates to an account of an individual's response to treatment. The account is genuine, typical and documented. The views and opinions expressed are those of the patient or author and not representative of Medtronic or of any third parties referenced. The response other persons have to treatment could be different. Please consult with you healthcare professional for information on whether the treatment is appropriate for you. The information provided in this blog is an individual account specific to the writers experience in the management of their own diabetes. Before considering any changes to your diabetes management you must consult with your healthcare professional.