PUMP PRIDE - CHLOE
Monday, June 18, 2018 - 10:52
The 640G supports me in all aspects of life and helps me feel less different from my friends and family. The 640G lets me be free and has kept me doing the things I love without diabetes standing in the way. Running is something I'm passionate about and the 640G working with the CGM helps me to monitor my levels before and after running. As our training varies and I never know what to expect, the suspend before low feature of the 640G makes me feel more secure and safe. I love Parkrun (if you don't know already, it is an awesome weekly 5k timed race at parks all over Australia and it's FREE).  One weekend at Mitchelton parkrun I was the first woman across the line. I was so happy and I felt very proud of myself. I feel like I never could have accomplished this without my 640G helping me along the way. I knew in that moment that diabetes cannot stop anyone from achieving their goals.  I hope all people with diabetes see that no matter what, they can achieve their goals if they put their mind to it.
Another reason that I love my 640G is because it gives me freedom and flexibility. When I'm hanging out with my friends, having a swim in the pool, it's great that I can keep my pump on so my levels don't go through the roof. I love the fact that I don't have to pause my fun to get out of the pool dry off and test instead I can just have a quick look to see how I'm tracking.
 I feel like my 640G has helped me to excel in school. When I am studying I tend to get stressed and worried and can send myself low but with my pump it gives me one less thing to worry about. The suspend before low feature has saved me from so many lows so now I don't have to waste precious time recovering from my low and feeling awful. Instead I can use that time to focus on my assignments and exams. I love using CGM at school because high school life can become very chaotic and sometimes it's difficult to juggle everything. My pump helps me feel in control of my diabetes and helps me stay on top of it. Instead of going out of class every time I need to test or don't feel well the answer is at my fingertips. Spending time with my friends at school is something I don't want diabetes to stop me from doing, so I love the fact that I have my blood sugar levels constantly there on my 640G.
I could never imagine my life without my pump it has helped my feel so empowered.   I know I can do and achieve anything.  It has made my life so much simpler and much less stressful. I hope all people with diabetes acknowledge that even though sometimes diabetes is hard and it can be draining, you can be anything and achieve anything with your pump by your side and when you believe in yourself.
---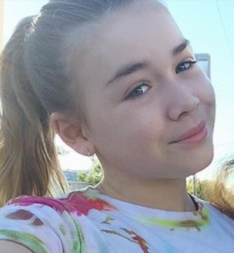 Chloe
Medtronic Diabetes Australia Ambassador
Living With Type 1 Diabetes 
An active 14.5 year old, Chloe likes to enjoy a variety of sports from swimming to rock climbing. With her pump by her side she is able to live life with less worry and more fun, be sure to read Chloe's blogs on how she gets back to the real world.
This patient testimonial relates to an account of an individual's response to treatment. The account is genuine, typical and documented. The views and opinions expressed are those of the patient or author and not representative of Medtronic or of any third parties referenced. The response other persons have to treatment could be different. Please consult with you healthcare professional for information on whether the treatment is appropriate for you.